Fuso – Models
< BACK TO BRAND PAGE VOCATIONAL
Like the sounds of boosting your bottom line? Then you'll love these models.
---
FE 130 | The medium-duty truck that will drive your business forward.
With a GVWR of 13,200 pounds, the Canter FE130 is one rugged yet responsive vehicle that's easy to drive and maintain. It's at the lighter end of our medium-duty lineup, making it a good choice for appliance and package delivery, office supplies, air cargo and street sweepers. And the long-wheelbase version (169.3 in.) accommodates bodies up to 20 ft. long.
Some cabovers in its class have frontal-area restrictions, which means they can't be outfitted with full-width truck bodies. But the Canter can, handling virtually any standard body style from 10 to 20 feet long. Something to think about if you move bulky cargos like furniture.
And all Canter models, including the FE130, feature standard impact-absorbing steering column and side-door crush bars to better protect occupants and ensure greater peace of mind under all driving conditions.
FE 160 | The medium-duty truck that will drive your business forward.
No matter what you deliver, the Canter FE160 will help you do it more dependably. At 15,995 GVWR, it's a workhorse, right in the sweet spot of our medium-duty lineup. Comfortable enough for drivers of all shapes and sizes. Versatile enough to serve in any application from construction, industrial supply and landscaping to refrigerated transport. Its wide stance and compact, lighter diesel engine help contribute to responsive steering. Its flat, 33.5-inch wide frame makes for easier mounting of truck bodies up to 22 feet long. And it will carry more than a ton more payload than the leading cabover in its class. What a great way to move your business forward.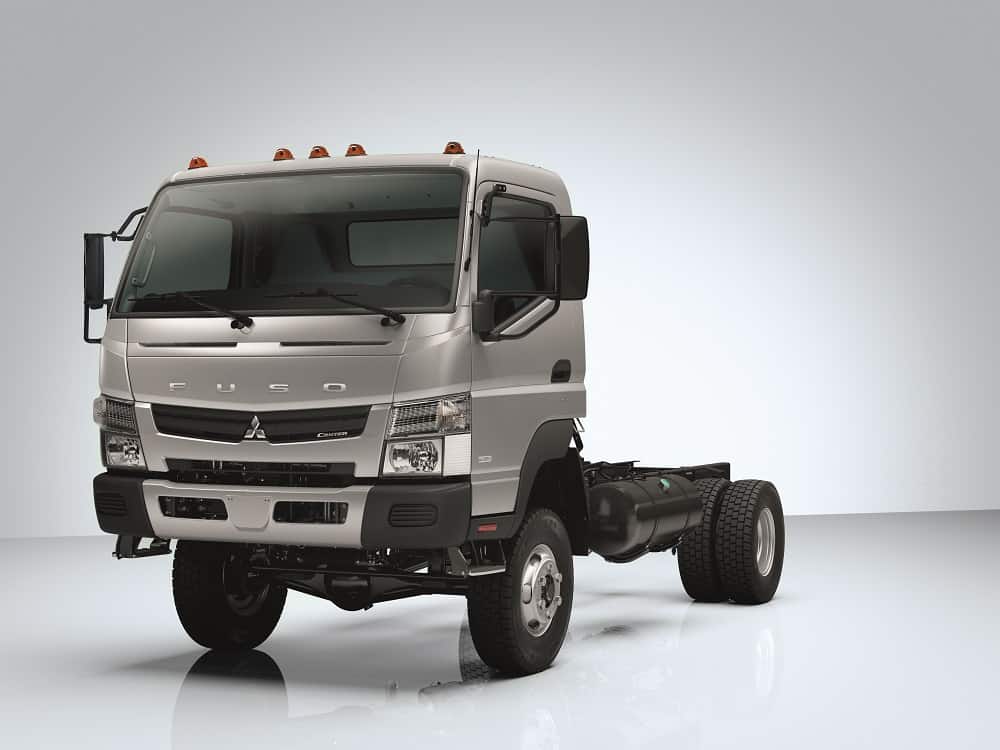 FG 4X4 | It's got your drive at all four wheels.
Still the industry's only four-wheel drive cabover, the Canter FG4X4 goes where no other trucks can, thanks to excellent ground clearance, locking hubs and constant-velocity joints for sure-footed tracking and turning. Plus, heavy-duty axles and all-terrain tires, transfer case and more.
With a 14,050 GVWR and excellent maneuverability, it's ideal for off-road use, light construction as a dump truck, a stake body or utility body — even snow plowing. No matter how sloppy or slippery conditions get, the FG4X4's Duonic® transmission feeds continuous power to all four wheels to help you maintain maximum traction.
FE 160 Crew Cab | Sunup to sundown. A commercial truck that works just like you.
Some say three's a crowd. But in the FE160 Crew Cab, seven can sit comfortably, arriving at the job site rested and ready. The clutter-free floor and spacious interior accommodate the bulkiest shoulders, legs and elbows. And there's plenty more room behind the cab for equipment, payload and bodies up to 20 feet long.
With a GVWR of 15,995, the medium-duty Crew Cab is ideal for everything from ground maintenance, landscaping and lawn care to construction, municipal duty or road service
FE 180 | The medium-duty truck that will drive your business forward.
At 17,995 GVWR, the FE180's payload capacity is the largest in the Canter lineup. It has a rugged steel frame with yield strength of 56,565 psi. But it sure doesn't handle like a heavyweight. Coil front and multi-leaf rear suspension, dual-caliper disc brakes front and rear with ABS, and an easy-to-grip tilt/telescopic wheel help you start, stop and steer with precision.
And like all Canter models, it features an exclusive dash-mounted shifter, room for three, panoramic visibility, and safe, easy entry/exit with covered, serrated steps and swing-forward doors that open 70° but feel like 90°.
The FE180 accommodates a variety of body styles up to 22 feet long, making it the right choice for fleets, heavier-duty hauling, and inner city or intra-city transport.